Last week I shared a little of my thinking about the problems inherent in the way people in the field talk about OER. Primary among those problems is our bewildering refusal to talk about the permissions necessary to engage in the 5R activities. These permissions are a critical part of the definition of what it means for a learning resource to be open. Second among the problems I discussed is our seeming inability to be clear about OER being free (the other critical part of the definition of what it means for a learning resource to be open), while services provided in conjunction with OER might cost money.
Those problems manifested themselves plainly in my newsfeed this morning. Like they do every day. For example, here's an upcoming webinar from Inside Higher Ed about "The OER Moment":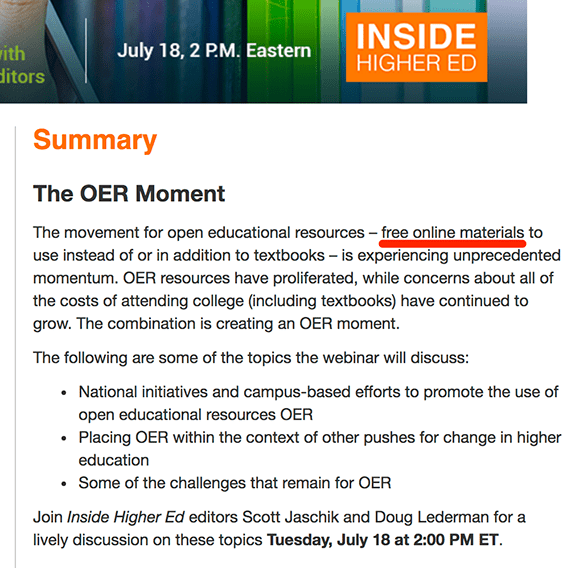 There's a supposed definition of OER in the very first sentence, but there's no mention of permissions anywhere. According to IHE, OER are nothing more than free online materials like a story you might read on the New York Times website or a photograph you might see on the National Geographic website – and they're about to hold a webinar in which they'll repeat this alternative fact to everyone attending. And it's not IHE's fault that they have this deeply impoverished view of OER – they're learning about OER from us, the OER advocates.
Or take this story from the Houston Chronicle: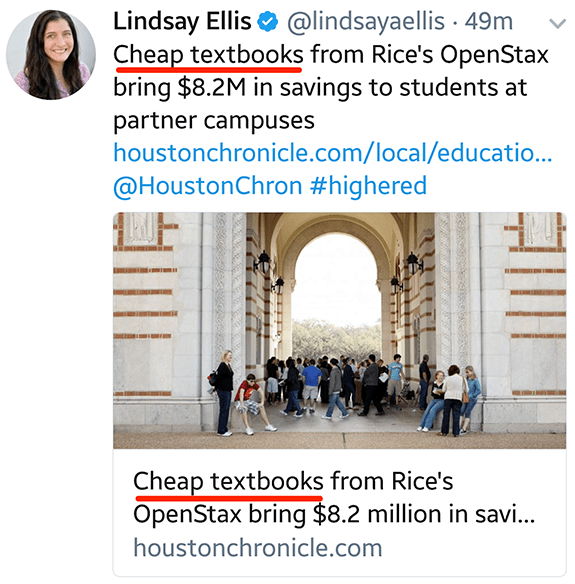 From the first word of the headline, we find ourselves back in the free versus affordable confusion. The OER produced by OpenStax are free – that's why they're OER. As a value-added service, OpenStax makes printed copies of their OER available for $30 – $60. That's fairly cheap compared to what people pay for traditional textbooks, so in that light the headline sort of makes sense. But again, (1) there's no mention of permissions anywhere and (2) we've confused the issue of what is free (the OER) and what is affordable (the service of printing).
Publishers absolutely delight in this "cheap textbooks" framing of the OER message because (1) they can lower their prices so as to be competitive with "cheap" and (2) the language of "textbooks" sounds super 1960s while publishers are talking about systems that can provide students with an infinite amount of practice with immediate feedback.
As a brief aside, we're killing ourselves with the way we talk about formats, too. For example, take this quote from the article – "OpenStax textbooks … are available in digital PDF versions and cheaper $30 print editions." Of course they're available in other formats, too, but those formats are mostly useful for facilitating the 5R activities enabled by those permissions we keep ignoring. The notion that OER are either PDFs or printed materials perpetuates the feeling that the entire movement is way behind the times and gives publishers additional fodder to attack us.
BTW, did you know that it's entirely possible to implement some of the most basic insights from educational psychology – the very principles enacted in many of these online practice systems – in print? The spacing effect can be practiced using Leitner boxes, for example. (I'm not suggesting that we start selling supplementary shoe boxes and index cards, I just thought you might find it interesting.)
I know you shake your head in genuine wonder, asking yourself "Why does he care? What difference does it make which words we use? Nobody cares about permissions! Doesn't he get sick of writing the same blog post over and over again, complaining about definitions and language?"
You bet I get sick of it.
But here's why I keep fighting – somewhere around 75% of faculty still haven't heard about OER.  That means there's still time for OER advocates to get our acts together. There's still time for us to help the majority of faculty understand the true power of OER.
Being "free online materials" is not the true power of OER.
Being "cheap textbooks" is not the true power of OER.
If a 2022 Babson survey of faculty shows 92% faculty awareness of OER, with the majority of faculty agreeing with the statement "OER are free materials," OER advocates will have no one but ourselves to blame. We're asleep at the wheel. The time to steer the conversation is now, while people are still being introduced to the idea of OER – not five years from now when our decades of work have been reduced to "cheap textbooks." We need to start talking about permissions – and sharing the powerful things that happen when faculty and students leverage them.
I hope I speak for all of us when I say: I haven't spent the last 19 years of my life fighting to create cheaper textbooks. I'm trying to lay the foundation for a fundamental shift – a real revolution – in teaching and learning. I'm fully aware I'm playing a very long game, and I expect to play it another 20 years with little hope of seeing the vision completely fulfilled. However, it is a game worth playing and a vision worth fighting for. And neither "cheaper" nor "free" can get us there. Only "free plus permissions" can.